UPDATE JUNE 2nd 2022
We are now getting ready for our first real concert in two and a half years! An afternoon concert in aid of Ukraine at Middleton Church on Sunday 19th June at 3pm.
The concert will feature a wide and eclectic range of music including Robert Peate's Garden Days. Robert Peate will be with us and will accompany his work as well as playing some of his piano compositions. He and Andrew will also play some delightful duets by another member of the Herefordshire Composers' Workshop, Peter Fletcher.
The concert will be followed by tea and cakes, included in the price of £8.50.
A couple of weeks ago the Birchpole SIngers were involved with the Mayor making ceremonies in Leominster Priory. The first five numbers from Garden Days were performed as a prelude to the ceremonies. The choir was conducted by Kieran Morris with Andrew accompanying on piano. At the end of the ceremonies the Birchpole Singers sang Sumer is a cumin in, a famous round from medieval times, composed by a monk who was once resident in Leominster!
New members are very welcome to the choir which still rehearses on Wednesday evenings in St Leonard's Church, Yarpole at 7.15.
UPDATE. APRIL 27th 2021
All being well the Birchpoles will meet again for rehearsals on Wednesday evenings at St Leonard's Church Yarpole from May 19th. We will meet for eight weeks and conclude with an informal run through rather than a concert on Wednesday July 7th
(In the event the informal sing took place outside the church on Thursday July 8th. A happy occasion with about forty people enjoying tea and cakes in the afternoon sunshine.)
UPDATE FEBRUARY 8th 2021
The Birchpoles met on Zoom through the Summer Term 2020. We began live rehearsals agin in September and these continued apart from the November lockdown through until Christmas when we sang in the service of Nine Lessons and Carols at St Leonard's on 20th December 2020.
Sadly since then the choir has not been able to meet.
UPDATE MARCH 18th 2020
I have agreed with the Chair of the Birchpole Singers that those who wish to will continue to meet at present.
We will keep a respectful distance from one another and do different repertoire from our usual fare. Singing is very good for positive immune systems and for mental and emotional good health. This is why the Chair and I have agreed to continue in these difficult times.
The rehearsals will be at 7.15 on Wednesdays at St Leonards Church Yarpole
The choir is now rehearsing again. Anyone is most welcome to join us at Yarpole Church on Wednesday evenings from 1915-2130. Our next performances are for the Edfrith Evensong service in Leominster Priory on Sunday October 29th and our Christmas concert in Yarpole Church on December 15th
Since October 2014 I have been Musical Director of The Birchpole Singers, which has a Facebook page.
Photos from choir concerts can be seen on the Facebook page, including some from the recent concert on June 30th at Richards Castle.
We put on four or five concerts each year in local Herefordshire churches as well as in our home base of Yarpole. Do get in touch if you would be interested in hosting a concert.
The format of our concerts is usually that we give the opportunity to a young vocal or instrumental soloist to perform some items - with myself as accompanist - in between sets of choir items. This seems to go down very well with both the choir and the audience, and is also of course a good opportunity for the young soloists themselves. At our concert in June 2016 Archie Auger (flute) performed the Poulenc Flute Sonata, In Ireland by Sir Hamilton Harty and Hypnosis by Ian Clarke. In December 2016 Archie again performed, but this time on bassoon. He played pieces by Weber and Grovlez.
At the recent concert in June 2017 Oran Johnson performed the slow movement of Beethoven's Piano Sonata in C minor, Op 10/1 and then in the second half pieces on trombone by Rimsky-Korsakov and Irving Berlin.
The choir performs a wide range of music from Byrd to the Beatles, and we performed two Christmas concerts in Brimfield and Yarpole in December 2016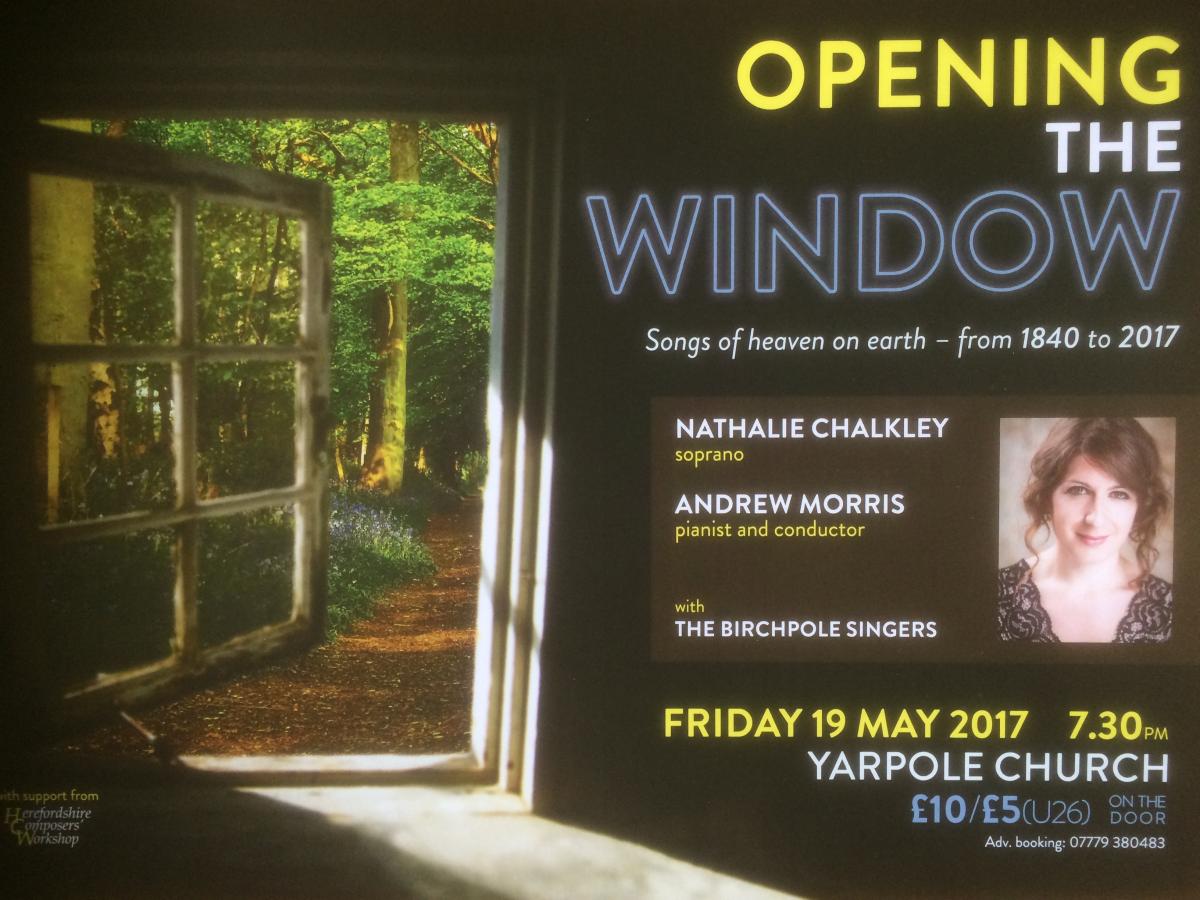 The Birchpoles also perform contemporary music. In May 2017 the Birchpole Singers perfomed three works by HCW composers in a concert featuring the soprano soloist Nathalie Chalkley. Robert Peate's Snail Litany was written specially for this occasion and received its premiere performance with Rachel Voysey as the soprano soloist. Gary Higginson's A Bishop's Prayer and my own Apple Tree Hymn were also performed. In the June concert, the choir also performed for the first time two of the Gospel numbers from Mike Sheppard's book of new Gospel compositions, Sing Glory.
If you know anyone who is looking for a choir to join, do get in touch. Our rehearsals are at Yarpole Church on Wednesday evenings and will begin again after the summer break on September 13th.
The Birchpole Singers are a community choir based in North Herefordshire. The name comes from the two villages of Bircher and Yarpole. Founded in 1981, the group continues to sing and perform a mixture of classical, folk, pop, sacred and secular music. Our current Musical Director, Andrew Morris, and current Chair, Nancy Morgan, lead us as we practice in Yarpole, Herefordshire and perform in the surrounding region.